Pattaya
, Thailand
Real Estate
Condos for Rent (

401

)
Condos for Sale (

297

)
Condo for Short Term Rent (

1

)
New Condo Projects (

29

)
All Condos for Sale (

606

)
Houses for Rent (

284

)
Houses for Sale (

265

)
Houses for Short Term Rent (

2

)
New House Projects (

5

)
All Houses for Sale (

484

)
Land for Sale (

98

)
Property Updated

Most Visited of Property
Visited Property of Today
Visited Property of The Week
Property Around Thailand (

0

)
Pattaya

Property for Sale
Pattaya
, Property Today
New Development

for Sale information

Back Save Favourite Print version

%

SOLD

Property Code:
PFC10568
Property Size From:
34.80 - 0

Sq.Meters.

Price Start From:
2,415,000 - 0

Baht.

Last updated: 0//0

Property Viewed: 2847 : 2018-04-25
Description
of This Development
New Condo Jomtien for Sale

New 36-storey project is located in Jomtien Pattaya.
All apartments are sold completely finished, equipped with air conditioning.

This is a new high class condominium building to investors, holiday makers or those who have long since dreamed about owning and living in their luxury condominium with sea view.
The location of this building is on New Second Rd., Jomtien. Because of the high grounds (almost 20m above sea level) sea view will start from the units as low as the second floor.The building will be completed in year 2015.

Now the prices start from 2.45 MB to 4.5 MB. Unit sizes vary from 35 sq.m. to 58 sq.m.
The price includes state of the built-in furniture, electric stove, sink, built-in microwave. Each floor has only 15 units in different sizes.Facilities in and around the building includes outdoor swimming pool, kids playground, fitness and sky lounge.

CONSTRUCTION DURATION: 2012 – 2014

Maintenance fee: 30 THB sqm p/m
Sinking Fund: 500 THB/per sq.m


Facilities
of This Development

Swimming Pool
Children's Pool
Roof top Pool
Roof top Terrace
Artificial Beach
Restaurant
Bar
Garden
Kid`s playground
Security
CCTV
keycard access
Internet - WI-FI
Parking
Gym (fitness)
Ping-pong
Sauna
Snooker
Laundry
Shop
or
or
Floor Plans
of This Development
Floor Plans Building 1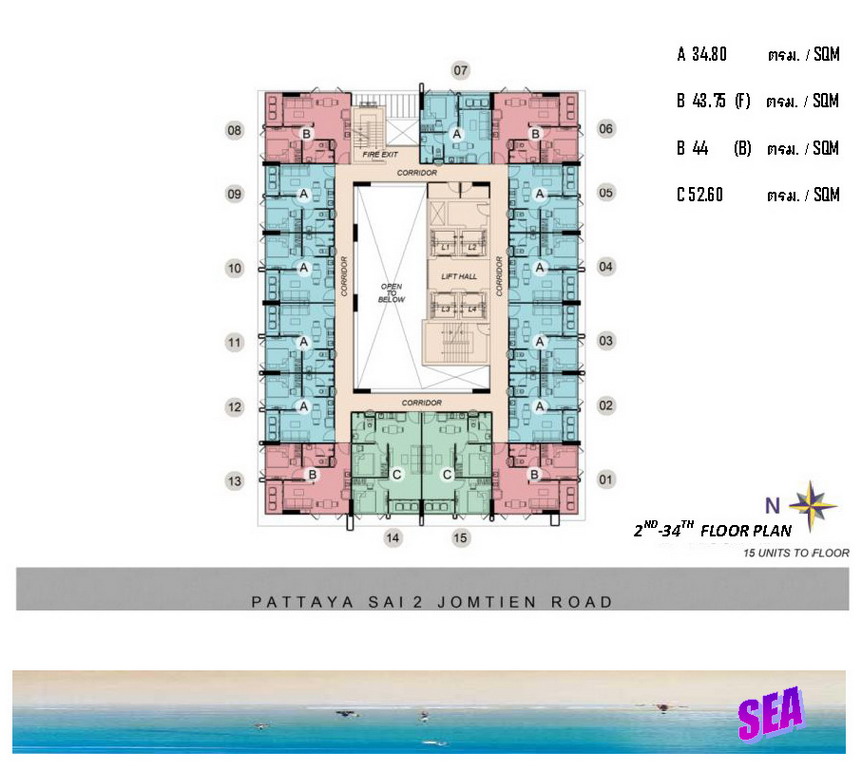 Video
of This Development
Rooms and Available
of This Development
or
All Comments
of This Development
Posted: 02/03/2015 07:42:47 AM
please send me informations.
Posted: 07/01/2015 05:39:07 PM
I am very interested in buying some property in Pattaya.
Do you have any condo in Jomtien (close to sea) avalible for 2m baht, or any house for max 4m baht in jomtien beach also?
Waiting for your reply?
Posted: 27/08/2013 03:30:05 AM
Please send me a brochure on this property. I am interested in 2 units. either two - one bedroom units side by side or two - two bedroom units side by side.

Please email to me and I will review and get back to you.

Thanks,
Posted: 02/06/2013 01:46:25 PM
What floor is important.
Posted: 02/05/2013 03:54:03 AM
Please do tell me whether an indian can take an appartment .
and also please specify every expense allied.
also send me the full floor plan.

thanks
Posted: 07/04/2013 07:59:20 AM
Prefer 2 bed room with ses view
Posted: 07/04/2013 02:25:51 AM
looking to buy condo
Posted: 06/04/2013 10:10:44 AM
i am looking for high floor facing to the sea.
for good offer can buy now.
condo 35 -50 m2 , full furnish
Posted: 03/04/2013 06:27:54 AM
Could you please confirm the size and price of this property. Can foreigners own a property on Thailand? Also please send some current pictures of the project in works. Thank you!
Posted: 01/04/2013 04:47:57 AM
Dear Sir

Kindly send me full information about 1 bedroom apartment for sale in project ref. # PFC10568

I might be interested in buying 2 apartments , if the price is reasonably ok.

Pls send me the bulding layout , Apartment layout , prices and availability.

Best Regards
Posted: 31/03/2013 07:38:08 AM
IS a 903 MB price final and real for foreigners as you write? What are conditions of the purchase? Please write, do not phone.
Posted: 29/03/2013 02:42:53 PM
what is the price for a 36 sqm on the 5ht floor,

thanks
Posted: 22/03/2013 07:35:15 AM
I need a two bedroom with a balcony. Is there a discount for full payment on closing. Price difference if a farang or a Thai national purchase it. I plan to spend six months each year in Thailand, Do you have assistance with renting the unit

Back
Save
Favourite
Print version
Top
For more details and information, please call in to our office or send an e-mail