Pattaya
, Thailand
Real Estate
Condos for Rent (

401

)
Condos for Sale (

297

)
Condo for Short Term Rent (

1

)
New Condo Projects (

29

)
All Condos for Sale (

606

)
Houses for Rent (

284

)
Houses for Sale (

265

)
Houses for Short Term Rent (

2

)
New House Projects (

5

)
All Houses for Sale (

484

)
Land for Sale (

98

)
Property Updated

Most Visited of Property
Visited Property of Today
Visited Property of The Week
Property Around Thailand (

0

)
Pattaya

Property for Sale
Pattaya
, Property Today
Condo
for Sale and Rent information

Back
Save
Favourite
Print version
Property Code:
PFC10939
Property Type:
Condo , Apartment For Sale/Rent
Ownership:
Area:
Jomtien <View area>
Location:
Jomtien 2Rd. Nongpure Banglamung Pattaya Chonburi Thailand
Premise Size:
168 Sq.meters
Bedroom(s):
3
Bathroom(s):
3
A/C:
Yes
Swimming Pool:
Share
View:
Swimming Pool
Security:
24 Hours
Internet:
Telephone:
Price for Sale:

8,000,000

Baht

Price for Rent:

50,000

Baht / Momth

Terms and Conditions:
One year contract

Last updated: 13/11/2017

Property Viewed: 2725 : 2018-04-24
Property
Description
Luxury Apartments for Sale and Rent in Jomtien

-168 Square Meters
-3 Bedroom/3 Bathroom/3 Balconies
-2 Master Bedroom with bathrooms en-suite with balcony
-Large Item Storage
-3 Meter+ Vaulted Ceilings
-Ground Floor Corner Unit
-Direct Private Swimming Pool Access
-Designer Furniture and Décor Throughout
-Large American Style Eat-in Kitchen Fully Equipped with Oven/Microwave/Double Door Fridge
-Bose 46" "Video Wave" Surround Sound System with Universal Remote
-42" and 32" Flatscreen TVs in the Bedrooms with CD/DVD Players
-Large Quality Built-in Wardrobes and Storage
-Siemens Washer and Dryer
-Best Swimming Pool in Jomtien
-Fitness Center
-24 Hour Gated Security with CCTV
-Beautifully designed and maintained common areas
-Friendly staffed reception center with Wi/Fi available throughout
-Laundry/Taxi/Maid Services all available in-house
-Friendly low-rise building

Description
This place looks like a house but lives easy like a condo. The unit is basically a house connected to the end of a condo building. It is a super private corner ground floor monster of a condo with direct access to the coolest swimming pool and common area in Jomtien. Miami-style décor make it feel like a luxury resort suite. The fully equipped eat-in kitchen and Siemen's washer and dryer could support a small family easily. Add in the convenience of the friendly staff and available laundry, taxi and maid services right on site and only five minutes from the beach.

Facilities
of Property
or
or
Video
of Property
or
All
Comments of Property
Posted: 06/03/2017 07:47:56 PM
Please provide full details regarding this property. Building name details, monthly fees, foreign ownership details, and anything else which may assist our decision making. How long has property been for sale. Percentage of owner occupied to rented in the complex.

Would the owner be open to lower offers or other plans. Eg rent with an option to buy etc. What will work for everyone?

Back
Save
Favourite
Print version
Top
For more details and information, please call in to our office or send an e-mail

Similar Property

Jomtien
Condo For Sale/Rent


1,550,000

Baht Jomtien
Condo For Sale/Rent


6,900,000

Baht

Jomtien
Condo For Sale/Rent


6,600,000

Baht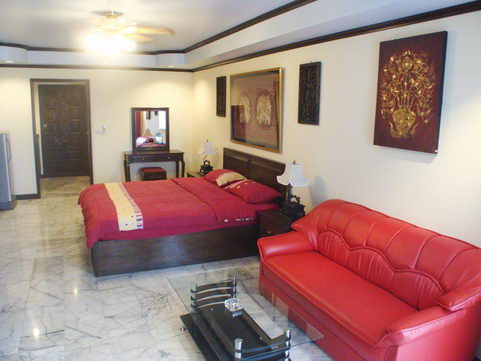 Jomtien
Condo For Sale/Rent


1,800,000

Baht

Jomtien
Condo For Sale/Rent


7,600,000

Baht