Pattaya
, Thailand
Real Estate
Condos for Rent (

401

)
Condos for Sale (

297

)
Condo for Short Term Rent (

1

)
New Condo Projects (

29

)
All Condos for Sale (

606

)
Houses for Rent (

284

)
Houses for Sale (

265

)
Houses for Short Term Rent (

2

)
New House Projects (

5

)
All Houses for Sale (

484

)
Land for Sale (

98

)
Property Updated

Most Visited of Property
Visited Property of Today
Visited Property of The Week
Property Around Thailand (

0

)
Pattaya

Property for Sale
Pattaya
, Property Today
Condo
for Sale and Rent information

Back
Save
Favourite
Print version
Property Code:
PFC10732
Property Type:
Condo , Apartment For Sale/Rent
Ownership:
Thai Name
Area:
Jomtien <View area>
Location:
Jomtien Road Nongpure Banglamung Pattaya Chonburi Thailand
Premise Size:
81 Sq.meters
Bedroom(s):
1
Bathroom(s):
2
A/C:
Yes
Swimming Pool:
Share
View:
Village
Security:
24 Hours
Internet:
Yes
Telephone:
Price for Sale:

3,300,000

Baht

Price for Rent:

20,000

Baht / Momth

Terms and Conditions:
One year contract

Last updated: 08/07/2017

Property Viewed: 2761 : 2018-04-25
Property
Description
Luxury Apartments for Sale and Rent in Jomtien

The condo offers self-contained 1-bedroom, 2-bathrooms apartments, varying in size 81 square meters, for either invest and long term rental. The apartments come with spacious balconies, well-appointed bathrooms, stylish kitchens and dining areas, plus air-conditioners in the bedrooms and living rooms.
The superb services and exceptional facilities include:

Gorgeous swimming pool
Modern fitness center
Maid service
Free internet service
Free 40-channel cable TV
Covered car park
24-hour security with closed-circuit monitoring system
Fire protection system of the highest international standard

For Sale 3.3 million Baht or Rent 20,000 per month with one year contract.
Facilities
of Property
or
or
Video
of Property
or
All
Comments of Property
Posted: 28/11/2016 11:11:23 PM
Is this property still available?
Posted: 09/05/2016 11:10:14 PM
i am interested in renting this apartment for more than 1 year I have a budget to 16000 bhat

Posted: 21/03/2016 01:21:52 PM
Hi when is the next available date ?
Thank you
Posted: 14/06/2015 06:09:49 AM
shere is property located.
Posted: 14/06/2015 06:08:12 AM
shere is property located.
Posted: 05/05/2015 03:54:28 AM
How far is it to beach? And what is the name of the condo/ apartment?

Many thanks,


Posted: 05/05/2015 03:15:10 AM
Where is this condo situated exactly and can we visit today ?
Please call me or e-mail me a number and name to contact for that .
Thank you ,

Posted: 31/12/2014 03:03:50 PM
I\'d like to rent this condo starting lease on the 16/1/15, how much depsoit is required?
Posted: 29/07/2014 07:17:41 PM
How old is this unit and how long has it been for sale
Posted: 13/05/2014 08:56:45 AM
Is this condo still for sale?, if not are there any other condos in the same complex for sale?, maybe 2 bedroomed condos in the same complex?
Posted: 30/03/2014 07:49:17 PM
is this place still available for rent ?
Posted: 29/03/2014 04:09:53 PM
family with 2 children. 1 year contract
Posted: 18/03/2014 04:46:26 PM
Sir,
Would be interested in renting first. Just wonder what we would have to do to get one-year visa. Any suggestions?
Greetings,
Posted: 05/03/2014 06:44:46 AM
Looking to rent this condo. Can i see the real room please.

Thank you

Posted: 17/02/2014 10:01:08 AM
Good day, is it possible to book this apartments for our dates? 25/04/14-11/05/14
Posted: 30/01/2014 10:57:24 PM
Looking for the apartment for couple with child 2 years old
Posted: 17/12/2013 09:54:08 AM
What floor and is it available?
Posted: 14/12/2013 12:03:00 PM
Hi i am looking to rent a condo for around 2 years i am willing to stipulate in the contract if i don\'t stay for the 2 year period i lose the deposit but only on the basis that the owner gives me a good discount on the monthly rent.
I am looking to move in on Tuesday the 17th of this month if possible.
Best regards
Shaun.
Posted: 14/12/2013 02:28:14 AM
Hello. Is your property available for rent on the above dates? Kind regards

Back
Save
Favourite
Print version
Top
For more details and information, please call in to our office or send an e-mail

Similar Property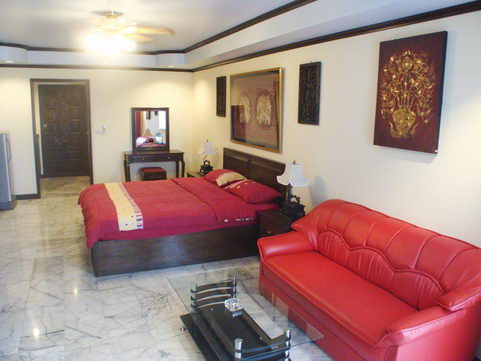 Jomtien
Condo For Sale/Rent


1,800,000

Baht

Jomtien
Condo For Sale/Rent


1,550,000

Baht

Jomtien
Condo For Sale/Rent


6,700,000

Baht Jomtien
Condo For Sale/Rent


6,900,000

Baht

Pratamnak
Condo For Sale/Rent


2,400,000

Baht