Pattaya
, Thailand
Real Estate
Condos for Rent (

401

)
Condos for Sale (

297

)
Condo for Short Term Rent (

1

)
New Condo Projects (

29

)
All Condos for Sale (

606

)
Houses for Rent (

284

)
Houses for Sale (

265

)
Houses for Short Term Rent (

2

)
New House Projects (

5

)
All Houses for Sale (

484

)
Land for Sale (

98

)
Property Updated

Most Visited of Property
Visited Property of Today
Visited Property of The Week
Property Around Thailand (

0

)
Pattaya

Property for Sale
Pattaya
, Property Today
Condo
for Sale and Rent information

Back
Save
Favourite
Print version
Property Code:
PFC10454
Property Type:
Condo , Apartment For Sale/Rent
Ownership:
No
Area:
Jomtien <View area>
Location:
Thappraya road Nongpure Pattaya Thailand
Premise Size:
41 Sq.meters
Bedroom(s):
Studio
Bathroom(s):
1
A/C:
Yes
Swimming Pool:
Share
View:
Sea view
Security:
24 Hours
Internet:
Yes
Telephone:
No
Price for Sale:

2,000,000

Baht

Price for Rent:

16,500

Baht / Momth

Terms and Conditions:
One year contract

Last updated: 12/12/2012

Property Viewed: 2688 : 2018-04-25
Property
Description
TOP FLOOR Studio Condo (SPECTACULAR SEA VIEW) for RENT/SALE

with 41 sq.meters European kitchen, fully furnished, ADSL Internet, home theater 50 inc TV with Cable TV service, Air-conditioning, Giant Swimming Pool, 24hr Security. Asking price 2 million baht and for rent 16,500 baht for one year contract.
Facilities
of Property
or
or
Video
of Property
or
All
Comments of Property
Posted: 30/08/2015 09:13:14 AM
hi i am looking for similar like condo for rent around view tallay 2 area with big balcony and good view between 10 and 20 ooo baht per month . thank you
Posted: 05/02/2014 02:35:44 PM
Dear Sir/madam,

I would like to see the condo. Please contact me on email or give me a call for a appointment.

Best Regards,

Posted: 02/11/2013 06:38:16 AM
LOOKING FOR 2 CONDOS FOR MY BR0THER AND I.
HIGH FLOOR, GOOD VIEW, VT1A,VT2A, VT5D,VT7,
IN THAT AREA. CLOSE TO BHAT BUS.
THANK YOU, JACK AND AL O\'NEIL
Posted: 21/08/2013 05:29:13 AM
No specific question now.
Maybe after I view the condo.
Posted: 29/07/2013 03:14:12 PM
Hi,

Does the rental price for 1 year include cable TV and iternet with the price?...

Whereabouts on Thappraya is it? I live o Thepprasit...

Thaks.
Posted: 01/04/2013 06:51:21 AM
Hello,
I was wondered if it could be possible to rent this apartment just for one month in a low season (july-august). But for a price 20000 baht.
We are guiet family without bad habbits.

Best regards,
Posted: 18/03/2013 10:52:40 PM
How fast is the internet
Posted: 03/03/2013 10:16:59 PM
We want to rent this flat
Posted: 22/02/2013 07:20:20 AM
i can pay 3 mounth now if i have a good price
Posted: 07/02/2013 02:26:03 PM
Must have good internet connection
Posted: 27/01/2013 02:57:42 AM
Hello, I would need the Condo from the 5. March 2013 for 8 plus Months. Need to wait for my wifes Visa.
Thanks for your responce.
Posted: 18/01/2013 07:27:03 AM
Can I booking from January 31 till February 24? Thnks!
Posted: 16/01/2013 02:27:39 AM
Can i bring a dog?
Posted: 21/12/2012 01:22:19 PM
Good evening!
I come today from Finland to Bangkok and I need a condo from Pattaya for one month or two months. This looks nice. I can come to watch anytime if its possible.
Posted: 19/12/2012 08:53:08 PM
I REQUIRE INTERNET, FLAT SCREEN TV, SAFE, 1 MONTH RENTtAL SATELITE/ CABLE TV.
Posted: 15/12/2012 11:27:02 AM
asp please Thanks Sid
Posted: 11/12/2012 12:42:09 PM
pls contact me
Posted: 02/12/2012 09:47:21 AM
Hi, I want to rent this condo, Property code: PFC10454, Location: Nongpure Pattaya for 6 months with possible extension for another six months,
Posted: 28/11/2012 09:00:29 PM
Is it still for rent.
Posted: 25/11/2012 02:16:06 PM
I am interested in the apartment, but I have a question:


- I will stay at least 4 months. If everything goes well, more than a year, possibly 2 years. Is this OK?

Hope to hear from you soon!

Kind regards,


Posted: 11/11/2012 11:02:23 PM
Can i come and view your apartment please
Posted: 05/11/2012 10:57:53 PM
Is the condo still available?
Posted: 04/11/2012 03:49:13 PM
Does this condo or any similar one with same cost and location rent out for 2/3 months.

Also related to house in burapha golf for 45,000- you said golf membership ! Does that mean free golf there , what does Membershop mean

Thanks please reply

Posted: 14/10/2012 02:57:35 AM
I work in Brazil 28days on 28days off and currently been living in Thailand the last 4years. I looking to rent a Condo with Intentions to buy very quickly. Do you have anything available as I'm very Interested?

Regards



Posted: 13/10/2012 04:43:51 AM
i am intreseted in ur flat
i want for 2moths
Posted: 04/10/2012 08:10:04 PM
Which building is this in?
Posted: 03/10/2012 09:23:57 PM
Is this property is freehold?..Foreigner is allowed to buy this condo?

Back
Save
Favourite
Print version
Top
For more details and information, please call in to our office or send an e-mail

Similar Property

Pratamnak
Condo For Sale/Rent


2,400,000

Baht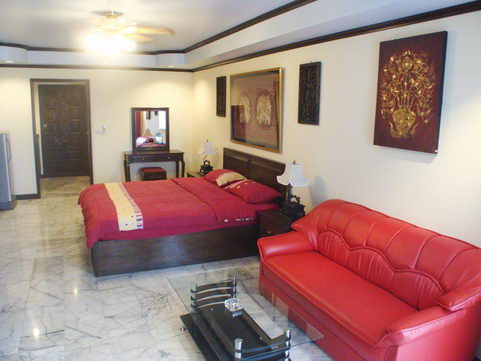 Jomtien
Condo For Sale/Rent


1,800,000

Baht

Jomtien
Condo For Sale/Rent


6,600,000

Baht

Jomtien
Condo For Sale/Rent


1,550,000

Baht

Jomtien
Condo For Sale/Rent


7,600,000

Baht