Pattaya
, Thailand
Real Estate
Condos for Rent (

401

)
Condos for Sale (

297

)
Condo for Short Term Rent (

1

)
New Condo Projects (

29

)
All Condos for Sale (

606

)
Houses for Rent (

284

)
Houses for Sale (

265

)
Houses for Short Term Rent (

2

)
New House Projects (

5

)
All Houses for Sale (

484

)
Land for Sale (

98

)
Property Updated

Most Visited of Property
Visited Property of Today
Visited Property of The Week
Property Around Thailand (

0

)
Pattaya

Property for Sale
Pattaya
, Property Today
Condo
for Sale and Rent information

Back
Save
Favourite
Print version



Not Available until March 12, 2018

Property Code:
PFC10446
Property Type:
Condo , Apartment For Sale/Rent
Ownership:
Company Name
Area:
Jomtien <View area>
Location:
Thappraya road Nongpure Banglamung Pattaya Chonburi Thailand
Premise Size:
32 Sq.meters
Bedroom(s):
Studio
Bathroom(s):
1
A/C:
Yes
Swimming Pool:
Share
View:
Sea view
Security:
Yes
Internet:
Wi-fi
Telephone:
No
Price for Sale:

1,450,000

Baht

Price for Rent:

12,000

Baht / Momth

Terms and Conditions:
One year contract

Last updated: 02/12/2017

Property Viewed: 3143 : 2018-04-24
Property
Description
Jomtien Condo for Sale and Rent

This condo studio is located at Thappraya road Jomtien on the 13th floor with balcony and sea view. Great view.

A name that everyone in Pattaya is familiar with in a central location in Jomtien about 10 minutes to south Pattaya and just a few minutes to Jomtien Beach.

Studio Condo: air con, ceiling fan, 32 inch LCD TV and DVD, fully furnished and kitchen fully fitted.
Bathrooms: 1
Balconies: 1 with sea view
Floor: 13
Square meters: 32
Sales Price: 1.45 million Thai Baht
Rent Price 12,000 Baht a month.

you pay electric & water (at government tariff)

includes, fresh towels, bed linen,. cable TV

Wi-Fi can purchase from management.

Facilities
of Property

Large communal swimming pool
restaurants
24 hour security
Bars
Massage parlor
Mini mart
Car rental
Travel agent
Laundry
Key card system
or
or
Video
of Property
or
All
Comments of Property
Posted: 21/01/2018 04:20:37 PM
Hi! we would like to find a room for rent (14.2-12.3.18) do you have any room for a suitable price (up 12000/month)?
Posted: 31/01/2017 10:40:00 AM
Is this propety still available??

what speed internet is available??

How much down payment is required to move in??
Posted: 06/12/2016 11:03:45 AM
What name is this please.
Posted: 13/07/2016 04:20:14 PM
My phone is broker best to email me.. when can I have a look, I am a local.
Posted: 15/06/2016 04:57:59 AM
Hi I enquired 2 days ago & still not received a reply. My girlfriend would like to view the property. Thanks
Posted: 13/06/2016 06:13:13 AM
Can my girlfriend come for a viewing in the next few weeks? Thank you
Posted: 22/09/2015 03:52:50 AM
hi looking to rent similar propertys view talay 2 or pratamnak hill area if possible thank you .
Posted: 18/07/2015 12:39:33 AM
would like to look at this property to purchase, does it come with all the furniture
Posted: 02/06/2014 04:06:17 PM
hello can I make an offer on this place??? what r the yearly fees on this condo if we agree a price then how do we proceed?? what r your fees ect paper work to sign bank transfers deeds????of owner ship ???
Posted: 11/02/2014 05:38:18 PM
Hi,
I was wondering this place is available for 3 months?
thank you
Posted: 25/12/2013 02:11:39 PM
Ich brauche dringend ein Studio für Januar.
Bitte helfen Sie mir etwas zu finden.

Vielen Dank
Posted: 19/11/2013 09:45:44 AM
Can you send me properties up to 1.5 million Thai Baht please.
Posted: 01/08/2013 02:58:58 AM
am interested in this property please email me full details
Posted: 30/05/2013 12:02:22 AM
i want to looking your condo if i can rent for one month

if i like can rent for longterm contract one years
Posted: 28/05/2013 12:24:38 PM
Hi.I need condo in Pattaya or Jomtien. I arrive at 1th Octeber and leave at 30 of October.Please sent me details about possible condo with price.Very impotant is Wifi for me in the rrom.Thanks
Posted: 20/02/2013 12:13:47 AM
i like this condo. what is the price for 1 month?
Posted: 03/01/2013 11:07:13 PM
Hi
Have interest in this rental offer. or similiar. 1 - 3 months
Public 10 THB service to Pataya?
Anything closer to South Pattaya?
I am a US Expat living in Hong Kong.
Regards
Posted: 11/12/2012 12:49:40 PM
pls. contact me
Posted: 02/12/2012 02:15:46 PM
Hello,

I'm coming in Pattaya in about 17 december. Is this condo available for rent for 2/3 months. Thank's in advance for your answer.
Posted: 25/11/2012 02:14:21 PM
I am interested in the apartment, but I have a few questions:

- Is airconditioning included?
- What is the price of WiFi?
- I will stay at least 4 months. If everything goes well, more than a year, possibly 2 years. Is this OK?

Hope to hear from you soon!

Kind regards,


Posted: 15/11/2012 08:49:01 PM
hi looking to rent for three months will be training in pattaya will this be avalible or somthing in this area at the same price thank you
Posted: 02/11/2012 05:18:20 AM
Its possible for 4 months? dec2012 - march2013...
Posted: 30/09/2012 08:02:59 PM
Can a Singaporean own a property in Thailand? If yes, what are the requirements? What kind of documents you need from me?
Posted: 24/09/2012 09:59:21 AM
Hi I am look to rent condo PFC10446 as I like its position. However I can see that its a 1year lease hold but I would want it for 4 month from January or February 2013. Would the owner consider leasing it for 4 months? If so would it be available January/February next year? My husband and I are flexible on our dates. If this is not available do you have any others close ny that are available? My limit is 12000 a month. Thank you.

Back
Save
Favourite
Print version
Top
For more details and information, please call in to our office or send an e-mail

Similar Property Jomtien
Condo For Sale/Rent


6,900,000

Baht

Pratamnak
Condo For Sale/Rent


2,400,000

Baht

Jomtien
Condo For Sale/Rent


1,550,000

Baht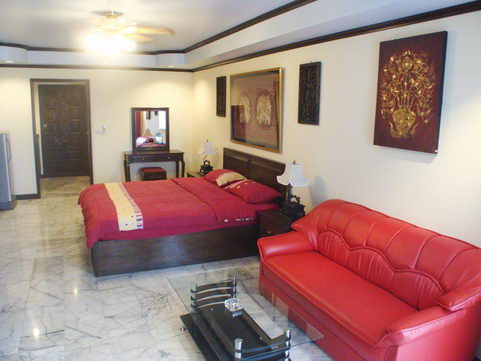 Jomtien
Condo For Sale/Rent


1,800,000

Baht

Jomtien
Condo For Sale/Rent


7,600,000

Baht